Since 1977, Childhood Connections – Okanagan Family & Childcare Society (formerly Kelowna Child Care Society) has been providing services and resources to help children in our community grow and thrive in safe, secure and healthy environments. We help families find the right care environment for their children, and we support those who provide care with valuable training and resources.
Nourishing Families Program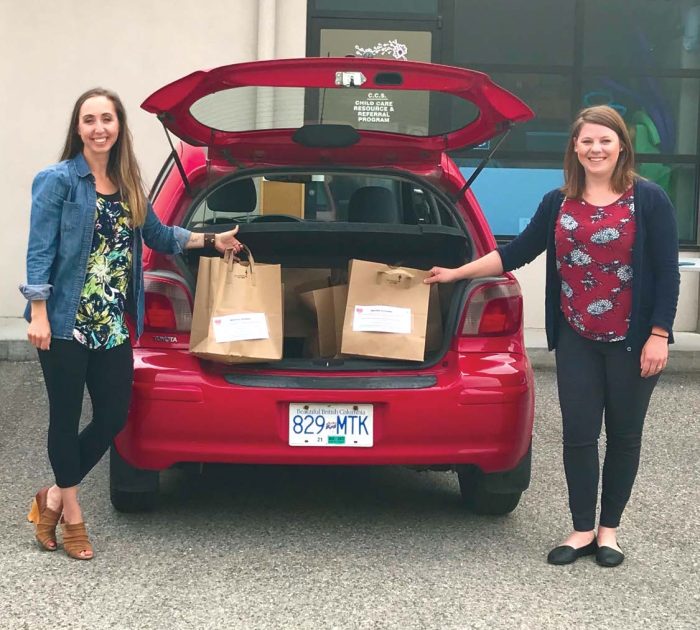 The first 2,000 days of life are critical to raising socially emotionally strong children, who will be resilient to adversity in their teenaged and adult years.
The Family Support Worker with Childhood Connections conducted outreach work to identify, assess and provide access for low-income families to early childhood development supports and services.
The Family Support Worker forged a stronger relationship with families by meeting the families at their homes, adaptation to service delivery was beneficial by addressing the barriers for families to access supports to raise vulnerable children. Childhood Connections exceeded their target, providing activities to 214 households (target = 200, 395 children/ 357 parents/caregivers). All families had one or more vulnerable children under the age of 12. Over 50% of households were headed by single women, 30% were indigenous, and 20% newly arrived immigrants.
Staff visited 214 food insecure, low-income households 6 times each to establish relationships, identify the child's and parents/caregivers' needs, and ensure accurate and timely information, advice and referrals were made. Of the child vulnerability assessments, 214 of the households had a vulnerable child who required additional support and care, which correlates with identifying families using socio-economic and demographic data to reach families who would typically not receive services and programs.
Of the children identified as vulnerable, six received play therapy courses. In addition, over one hundred parents/caregivers participated in participatory, problem-solving workshops
Funding received through the Central Okanagan Foundation for this program has been invaluable. Delivery and outreach at times was difficult, but Itcreated the opportunity to try new and innovative ways to strengthen the program, for the long term.
One of the most important benefits has been families accessing play therapy, workshops and community events – the increased need for play therapy was surprising, which still has a waitlist of over 20+ families. Another crucial benefit for the community was understanding how much vulnerable children were struggling during COVID-19 during a prolonged period of isolation for families. Parents also lacked opportunities to compare their child's development with others. The needs assessment and action plans helped to ensure children were developing appropriately. Families reported a greater need for in-person events to reduce isolation and loneliness.